Arrive is excited to present the release of InfoPoint 2.0 with enhanced room booking user-interface. This includes an improved user-interface with a sleek, clean design - packing more features and delivering a superior room scheduling experience.
What's updated in this release?
Ticker tape added for running information and other non-emergency messages
Enhanced customer logo positioning
Real-time weather data can be added on the Home screen via the InfoPoint Server
Quick Picks for convenient ad hoc on screen bookings:
"Book by Duration" - Uses Quick Pick, a feature allowing users to choose meeting duration time in 15/30/45/60/90 minute blocks. Also allows discrete selection by keying in the exact number of minutes needed.
"Book by Availability" - Shows the vacant periods in between reserved time blocks. Allows users to choose from the open time blocks by pressing on "Book this" – InfoPoint then automatically reserves the room.
"End Now" button allows user to conclude a meeting before the reserved time block is exhausted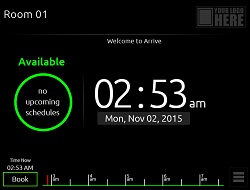 Arrive InfoPoint 2.0 Home Screen
Arrive InfoPoint 2.0 Quick Pick feature
Arrive InfoPoint 2.0 "Booking by Availability" feature
Arrive InfoPoint 2.0 Reserved mode