Resource Management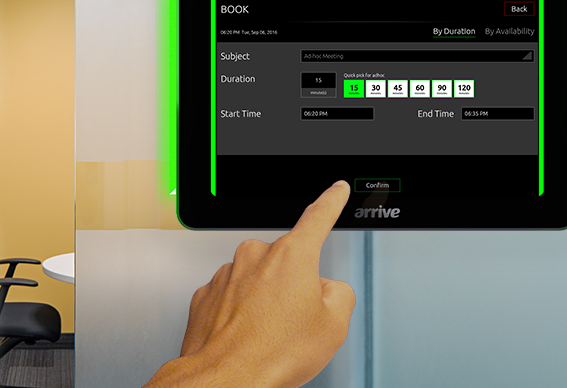 Arrive InfoPoint™ is a resource management solution that can schedule and reserve meeting and learning spaces; and be a digital signage and information system.This powerful integrated solution provides users the ability to reserve rooms via from Arrive's web interface or by using popular calendar/scheduling platforms MS Exchange (via MS Outlook), Ofc365 and Google Calendar App . Instant reservations can also be made right outside the door from the InfoPoint device. The InfoPoint's efficient scheduling platform eliminates booking conflicts and ensures that room schedules are optimized. It also enables efficient utilization of room resources in all kinds and sizes of shared spaces such as meeting rooms, classrooms, and other multi-use rooms. Arrive InfoPoint not only provides booking information at-a-glance right outside the room door, but functions as a room signs system with its ability to display announcements, emergency notification and other information posters.The integrated touch-screen display comes with a personalized branding option where company logos can be displayed. It can also post sticky notes for meeting attendees, and other information for general viewers. It shows daily, as well as weekly room reservation information, including the remaining time of on-going bookings. One can check-in before a meeting to confirm room utilization as well as end the meeting right from the InfoPoint device to optimize real estate space.
View Products
Wireless BYOD Media Collaboration and Presentation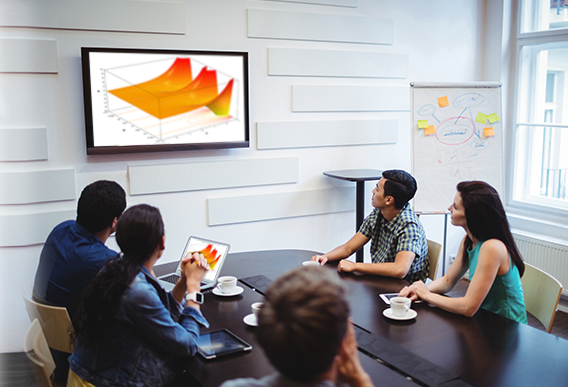 The Arrive MediaPoint™ product line marks the industry's first generation of universally integrated devices – supporting the most commonly used wireless and wired connectivity platforms in a single device. Arrive MediaPoint comes in several models – from a compact wireless gateway to a 4-in-1 unified media collaboration hub – supporting Apple AirPlay*, WiFi Miracast and Intel WiDi on the same integrated platform. It can be used for wireless BYOD media management in classrooms, huddle rooms, meeting rooms and hotel guest rooms, and integrates seamlessly with HD displays. All are designed to provide cost effective interface for tabletop applications and can be easily installed easily.
Wireless BYOD media collaboration and presentation come easy with Arrive MediaPoint since it does not require users to download software or attach dongles to their devices. The MediaPoint cable hub models also provides source display switching, 3rd party control options, cable management, and device charging functions.
* AirPoint technology for Apple AirPlay tested upto version iOS 8.5 only. Unqualified for iOS 9 and 9.0.
View Products
Video Conference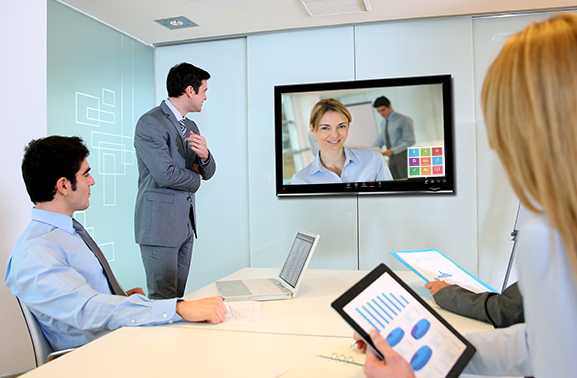 Arrive FacePoint® Extreme Video Collaboration Media provides customers the opportunity to enjoy Arrive's EdgelessMedia experience during video conferences in meeting rooms, conference rooms, boardrooms, class rooms and training rooms by providing cloud, BYOD, and legacy wired media connectivity. Arrive FacePoint further extends the video conference and content sharing experience by allowing the use of any one, or multiples of established video conference platforms by Skype for Business, Polycom RP, Cisco Jabber and many other software based video collaboration platforms. This enables customer experience to expand beyond the room by enabling the desktop HD video collaboration functions provided by many platforms across meeting spaces.
Ease-of-use coupled with advanced collaboration capabilities, also makes Arrive FacePoint a choice Unified Communication and Collaboration (UC&C) solution. It brings together communication devices and platforms across workspaces, and successfully bridge high quality AV with familiar collaboration tools from Microsoft. The virtual face-to-face collaboration is very secure and enabled through PCs, laptops, and tablets within the Skype for Business environment. Integration with Arrive OnePoint Edgeless Media Server opens up more collaboration features: room control, room bookings, meeting schedule management, and delivery of Microsoft App-V™, Citrix™ and VMWare™ connected virtual server applications to participants engaged in a Skype for Business video conference session.
With Arrive FacePoint's extreme collaboration features, teams and in-room participants can now enjoy collaboration in high quality audio and video on large screen, multiple displays.
View Products
Connect, Control, and Manage from a central resource manager platform
The Arrive OnePoint IoT Server® is a Unified Resource Management Platform, provided in an enterprise class unified service package that enables central management of all the data and information requirements for meeting and learning spaces. As a central resource management server software, it provisions and centrally manages room schedules, collaboration, and other work spaces – providing calendar synchronization, scheduling management, device specific application provisioning, collaboration platform interface, digital signage, announcements, catering and integration with room environment and device control.
OnePoint runs on a physical or virtual Microsoft® Windows Server 2008R2/2012/2016 server with IIS. It is the single point of inter operation for all third party services interaction required to provide the information services for ARRIVE's front end devices.
OnePoint can be accessed through Web Interface or Calendar Systems.
View Products
Collaboration devices for added functionality
Arrive offers several collaboration devices and other peripherals to enhance video conference and collaboration experience. This includes full HD USB cameras, USB microphones, video capture bridges, and full HD collaboration displays.
Cameras
The Arrive EyePoint™ cameras come from a family of USB 3.0 superspeed HD cameras that offer unparalleled clarity and resolution for a host of applications, irrespective of room sizes and light conditions. They are ideal solutions for video conferencing, distance learning, training, meeting, courtroom and any other application that involves high-quality color video camera with the flexibility of remote operations. The small form factor coupled with easy installation requirements make them an ace solution for video capturing requirements.
View Products